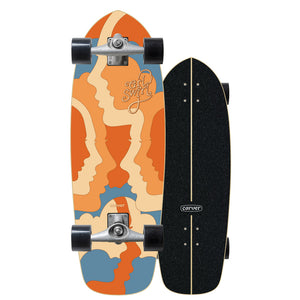 29.5" GrlSwirl Silhouette - CX Complete
GRLSWIRL MISSION STATEMENT:
Our mission to empower women, trans folks & non-binary people through skateboarding begins and ends with our rigorous grassroots efforts. Not only do we want to bring more people to the sport, but we want them to feel empowered to face their fears, be themselves and step into their power.
We here at Carver Skateboards are beyond stoked to partner up with GRLSWIRL and very happy to be able to offer this collaboration to all of our loyal supporters and beginners too!
Deck specs:

Width: 9 3/4"
Tail: 6 1/4"
Nose: 3 1/2"
Wheelbase: 16"

Set up:

Front Truck: 6.5" CX
Back Truck: 6.5" C2
Griptape Style: Sugarcoat
Stock Wheels: 70mm/78A Smoke Mags
CX TRUCKS
This is Carver's hybrid surf and skate truck. On the one hand it's a lightweight standard RKP (Reverse King Pin) hanger and base, on the other it has a patented geometry that squeezes every bit of turn and pump from the system. This means that you can pump this truck like a C7, but it lands airs and rides fakie with more stability as well. This opens up aerial maneuvers, and keys in with the latest progression of airs in surfing.
---
More from this collection