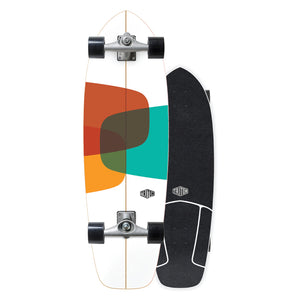 Triton - 32" Prismal - CX Complete
Everything about Triton is pure surf, from the classic Fish and Thruster shapes to the full white-dipped tops. The transparent color overlay graphics continue our tradition of using surfboard glassing styles adapted to print, incorporating a sophisticated palette that elevates their elegant simplicity.
This tight collection of four models hits every major surfskate index, from the short and snappy to the long and carvy. An affordable entry into surfskate, the Triton series maintains the great quality and responsive performance you expect from Carver.
Featuring the precision-pivot Carver CX truck set for a familiar and dependable surfskate feel, the series also comes with fast and grippy 68mm Roundhouse wheels and a 7 ply maple deck, each the result of 25 years of commitment to good design and durability.
The Prismal features a longer wheelbase for faster pumping and a wider stance, and has a bit more length and stability for more drawn out carves
Deck Specs:
9 3/4" wide
6 1/2" tail
3 1/2" nose
17 7/8" wheelbase

Set Up:
Front Truck - CX
Back Truck - C2
Griptape Style - Deck Pad
Stock Wheels - 68mm/78A Smoke Mags

CX TRUCKS
This is Carver's hybrid surf and skate truck. On the one hand it's a lightweight standard RKP (Reverse King Pin) hanger and base, on the other it has a patented geometry that squeezes every bit of turn and pump from the system. This means that you can pump this truck like a C7, but it lands airs and rides fakie with more stability as well. This opens up aerial maneuvers, and keys in with the latest progression of airs in surfing.
---
More from this collection